It is estimated that the Sacroiliac Joint Causes
15-30% of All Lower Back Pain Cases
Find Out How to Determine if You Have SI Joint Pain & If You Do ...
Discover How to Get Rid of the Pain Safely, Naturally … & Quickly!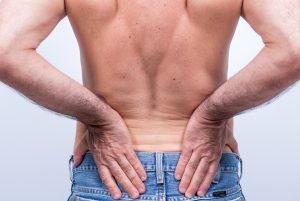 Do you commonly experience lower back pain and/or pain that radiates down into your leg?
If so, you may have Sacroiliac Joint Dysfunction, also known as SI Joint Pain.
This condition is common – a recent study called "Sacroiliac Joint Pain: A Comprehensive Review of Epidemiology, Diagnosis and Treatment" found that as many as 15% to 30% of all lower back pain cases are caused by SI Joint Pain.
Unfortunately, the condition is also extremely difficult to diagnose. In fact, for decades medical professionals doubted the sacroiliac joint causes any lower back and/or leg pain at all.
But now we know better … now we know that if left untreated SI Joint Pain can severely lower your quality of life by causing pain that keeps you from doing the things you love to do.
The causes of SI Joint Pain range from gait issues, such as a leg length discrepancy or scoliosis, to pregnancy or recent childbirth, to prior lower back surgery, to engaging in activities that put repeated stress on the joint, such as contact sports, regular heavy lifting or labor-intensive jobs.
No matter how you developed SI Joint Pain, chances are you desperately want to get rid of it and the life-disrupting symptoms it causes – symptoms that can include:
Dull, aching lower back pain that can range from mild to severe and can be felt on one side or both sides
Radiating pain that spreads to the hips, buttocks and/or groin
Sciatic-like pain in the buttocks and/or backs of the thighs that feels hot, sharp, and stabbing and may include numbness and tingling
Stiffness and reduced range-of-motion in the lower back, hips, pelvis, and groin
Worsened pain when climbing stairs, running or jogging, and lying or putting weight on one side – these actions put added pressure on the sacroiliac joint
Instability in the pelvis and/or lower back
If you have been experiencing one or more of these symptoms, take heart, help is here …
Get Rid of Sacroiliac Joint Pain
SAFELY, NATURALLY & QUICKLY!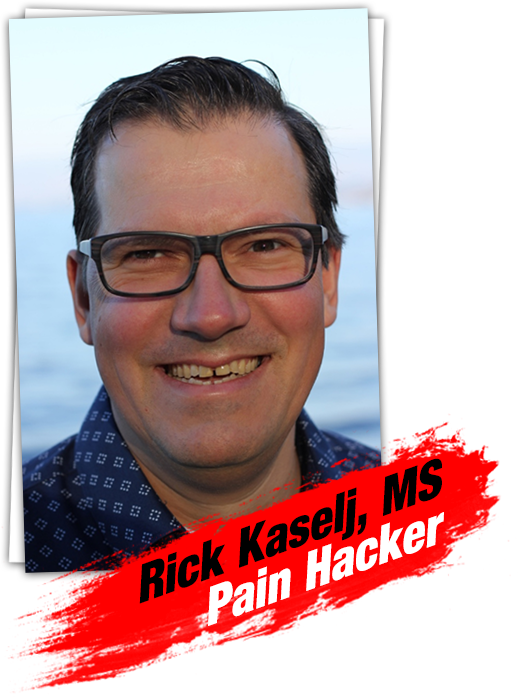 Hello, my name is Rick Kaselj, MS, and creating programs that help people heal injuries and eliminate pain is what I do.
I started as a personal trainer, exercise therapist and kinesiologist, but quickly discovered that many of the traditional exercise and treatment programs weren't producing the results I wanted for my clients.
So I took it upon myself to get the right knowledge, scour the medical research, and do hands-on testing, so I could ACTUALLY help my clients get better.
With the advent of the Internet, I saw a terrific opportunity to offer and deliver my programs to many more people, so they too could finally get relief from pain, heal their injuries, and get back to the active lives they enjoy.
My Sacroiliac (SI) Joint Pain Solution is the result of:
6 years of University study (including a Master's Degree in Exercise Science)
19 years of hands-on experience
Constant searching for the best sacroiliac joint pain recovery techniques, and then teaching these techniques to thousands of other fitness & health professionals who have then used them to help their clients
Thousands of personal training sessions with injury and SI Joint Pain clients
And the careful scrutiny of over 22 medical research papers
What I've discovered is that the body is truly an amazing creation – capable of healing itself from some of the most horrific injuries and by doing simple exercises, we can actually help our bodies heal even faster.
Now I'm going to tell you all about my Sacroiliac (SI) Joint Pain Solution and how it can help you regain pain-free movement without surgery or drugs in just a minute. But first, let me quickly tell you about the sacroiliac joint and why it is important to take action to relieve SI Joint Pain.
Sacroiliac Joint Dysfunction Explained …
The sacroiliac joint connects the hip bones (aka the iliac crests) to the sacrum, which is a triangular bone that is located between the lumbar spine and the tailbone (coccyx).
The sacroiliac joints are basically shock absorbers that absorb shock between the upper body and the pelvis and legs.
Dysfunction in the sacroiliac joints can occur either due to too much movement or not enough movement.
If the cause is too much movement, the pelvis will begin to feel unstable and lead to pain that is typically felt in the lower back or hip and may radiate to the groin.
If the cause is too little movement, you may feel muscle tension and pain and exhibit limited mobility. The pain is typically felt on one side of the back or buttocks and can radiate down the back of the leg, similar to sciatica pain.
Don't Let Back Pain Disrupt Your Life
If you are experiencing pain related to the sacroiliac joint then I'm sure I don't have to tell you how disruptive it can be to a normal life.
You may not be able to do things that you used to do around the house. You may not be able to play with your kids. You may find it difficult to sleep at night due to the pain you feel. You may have trouble sitting or standing or riding in a car.
The pain can wear on you as well and make you feel depressed. You may come to believe that there is no solution to your pain and that you are going to have to live the rest of your life with your symptoms.
But that isn't true …
The NATURAL Solution to SI Joint Pain
One of the biggest issues with SI Joint Dysfunction is determining whether you have it or not.
Sacroiliac joint pain can be similar to sciatica and other back conditions so it can be hard to decide what you have so that you can treat it the best way.
What works for sacroiliac joint pain won't necessarily work for other back conditions and, in fact, could make them worse. Likewise, treatments for other back conditions could make your sacroiliac joint pain worse.
That's why in my new Sacroiliac (SI) Joint Pain Solution, I've included self-assessment tools that you can use to determine if you have SI Joint Pain and how severe your case is. This information will allow you to pursue the best treatment option so that you get results fast.
In addition to the assessment tools, I've created a solution that is centered on the least number of exercises that you need to do, in the right order and the correct amount that cover all of the areas that need to be addressed to relieve SI Joint Pain.
You see, the problem with doing a lot of different exercises in a scattershot approach is that often, key components of a sacroiliac joint dysfunction recovery program can be missed.
Also, the order of the exercises is very important.
Doing the exercises in the right order will increase their effectiveness. The right exercises done in the right sequence can build on each other and produce greater and faster results.
To be honest, I would stop all of the other exercises you are doing for your lower back pain and give this program a go for 7 days.
That short period of time is enough for you to see the difference a well-thought out plan like this can make for your sacroiliac joint pain. You'll notice the difference physically almost right away.
Now let me tell you more about this ground-breaking program:
Introducing The Sacroiliac (SI) Joint Pain Solution
At last, there is a comprehensive, yet simple-to-follow program that contains the exercises you need to know to naturally eliminate your sacroiliac joint pain.
You get manuals that describe the entire program in an easy to understand manner and videos that show you exactly how to perform the exercises … along with a lot more.
This program:
Breaks down how to relieve sacroiliac joint pain into 13 simple steps that anyone can do, no matter what their age or physical condition
Shows you what exercises to do and the correct order to do them to get quick pain relief
Allows you to make the exercises easier or more challenging depending on the severity of your sacroiliac joint pain
Gives you pain techniques that you can start using immediately to melt your SI Joint Pain away
Not only tells you what exercises "TO DO" but also what exercises to avoid because they are a waste of time or could make your condition worse
Reveals how to avoid the common mistakes that people often make with lower back exercises
Unveils the single most important movement you must do to overcome SI Joint Pain
Plus, as I mentioned before, this program contains an assessment guide so that you can determine if you have sacroiliac joint dysfunction and the severity of your injury.
The program also comes with a Quick-Start Guide that will show you the fastest way to get started so that you can relieve the symptoms you are feeling as quickly as possible!
Here's Everything That is Included in the Program: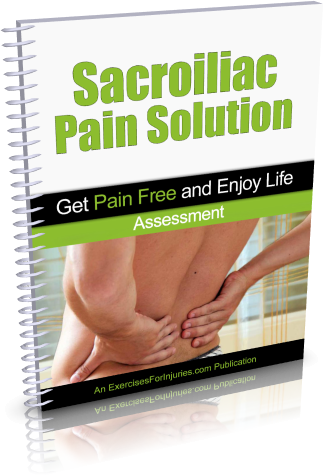 SELF-ASSESSMENT TOOLS:
You get a video, manual and fill-in sheet to help you assess your current condition. The video and manual walk you through how to assess the current condition of your sacroiliac joint. This is important to do because different people experience different levels of pain and stiffness. You'll record your assessments on the fill-in sheet and based on your findings, you'll know exactly where to start in the Sacroiliac (SI) Joint Pain Solution Program. This assessment process is critical to ensuring you get the best results possible from the program and you avoid injury.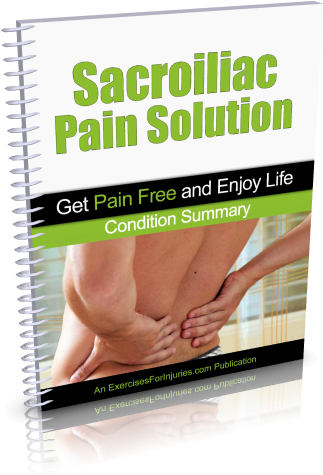 QUICK-START CHEAT SHEET:
The Sacroiliac (SI) Joint Pain Solution is filled with a lot of beneficial information but I want you to be able to get started and experience results as fast as possible, so I created this guide which distills all the content down to the bare essentials you need to know to get started fast.
The Quick-Start Cheat Sheet lays out the exact roadmap you need to follow to regain pain-free movement.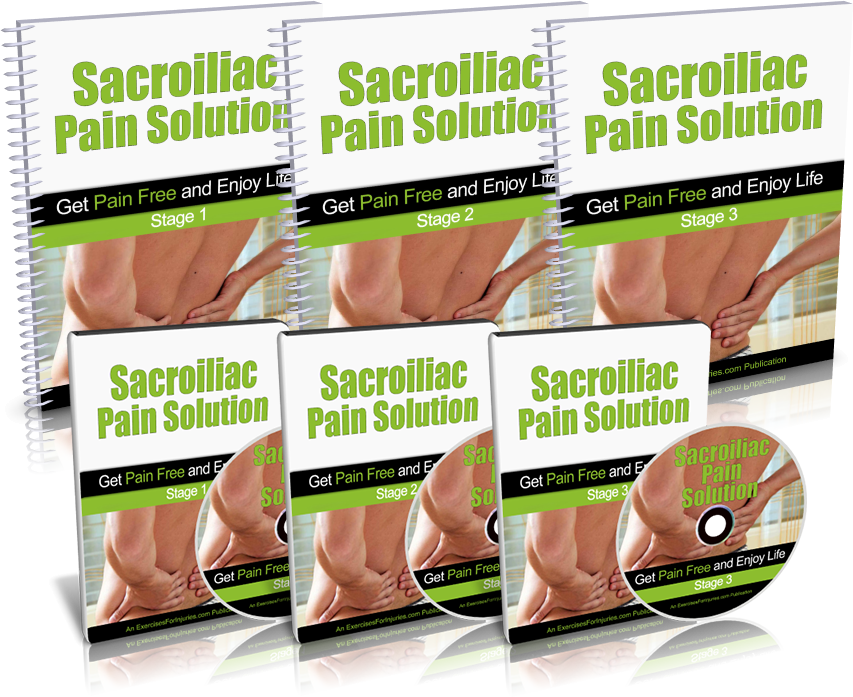 3-STAGE COMPREHENSIVE EXERCISE PROGRAM:
I've broken this program into three stages. The three stages allow you to self-direct your progress so you get the fastest possible recovery. The stages progress from very easy (Stage 1) to more challenging (Stage 3). This three-stage structure ensures that any person can complete this program and relieve pain and improve mobility – even those who have severe pain or who have not exercised a day in their life!
For each of the 3 stages, you get 1 instructional video, 1 follow-along video, 1 manual, 1 quick reference guide and 1 tracking sheet – everything you need to achieve maximum results. Here's what comes in each:
INSTRUCTIONAL VIDEOS:
The instructional video you get in each of the 3 stages is your virtual personal training session with me - Rick Kaselj, MS. In these instructional videos, I will:
Slowly Demonstrate STEP-BY-STEP exactly how to do each exercise perfectly, so you can definitely get it right
Show you ALL the common mistakes people make doing these exercises, so you also know what NOT to do
Give you everything you need – exactly how many reps and sets you should do, time and intensity, what you should feel as you do the exercises so you know you're doing them right... and more.
FOLLOW-ALONG VIDEOS:
You also get 3 follow-along videos - 1 for each of the 3 stages. These videos are your very own personal coaching sessions with me. In them, you will do each of the exercises following right along with my exercise assistant, who does them on video with you, while I count out time and reps, and coach you along the way.
MANUALS:
You get 3 manuals - one for each of the 3 stages in the program. In these handy PDF guides, you'll have everything you need to use this program to reach your end-goal: relieving sacroiliac joint pain. The guides include:
All of the gentle, but highly-effective exercises, stretches and movements you'll use in this program. Each is explained in detail, with precise step-by-step instructions.
Start-position and end-position photos for every exercise
Common mistakes and how to avoid them
Tips and advice on everything else you need to know, like: number of reps, number of sets, how long each rep should take, exactly what you should feel as you do each stretch and exercise, so you can be sure you're doing them correctly, and how to progress if the exercises become too easy.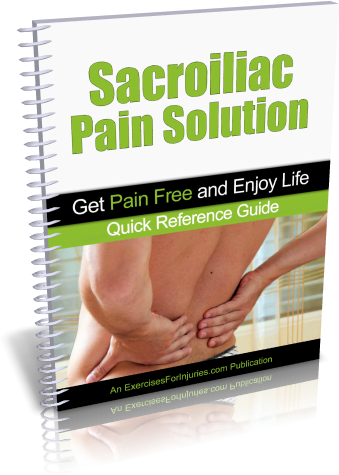 EXERCISE QUICK REFERENCE GUIDE:
As mentioned above, for each of the 3 stages in this program, you get an instructional video, a follow-along video, and a comprehensive manual.
Once you get into the program and start learning the exercises, you may want a faster, more convenient way to access the exercises, rather than having to fast-forward through the videos, and leaf through the larger manuals every time. That's exactly what this Exercise Quick Reference is for!
Every exercise in the program is laid out in this brief guide so it's quick and easy to find them, learn them and do them! For every exercise, there is a start and end photo, a quick summary of the exercise, and instructions on how to do it correctly.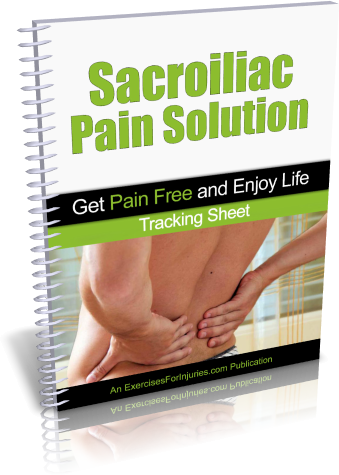 PROGRESS TRACKING SHEET:
In my more than 20 years of experience as a kinesiologist and injury expert, I've seen time and again that the people who measure their progress while they do my programs experience better and faster results than those who don't.
It's very important to measure your progress as you do this program. It will keep you on track. It will keep you motivated... which will keep you doing the exercises... which will actually get you the results you want. You simply cannot get the results if you don't do the exercises!
Take a Look at What Others Are Saying
About Me & My Exercise Programs:
"Your exercises have changed my life. I had been in constant pain for 15 years."

- Shelley Watson, Carmel, CA
"I just wanted to say thank you for providing what I needed to resolve my problem! After following your exercises, I went through work all day with no pain and no pain medication. Yeah! Thanks so much for a simple answer to a problem I have been dealing with for months."

- Tracy Walker, North Carolina
"Before I used the information, I couldn't walk normally for at least the first 15 minutes each morning. After using the program, I only have a little pain, but it eventually all got better with continued attention."

- Cher Anderson, Athens, TN
"After playing sports I feel better and the pain is not as intense. I thought I would just have to retire due to the pain, but I now see there is hope with your program. It has helped me a lot."

- Audal Acosta
Ready to Write Your Own Success Story?
Get The Sacroiliac (SI) Joint Pain Solution Today!
Imagine no longer feeling radiating pain in your buttocks and leg …
Imagine being able to bend over without feeling excruciating pain …
Imagine being able to once again do the things you love – like play a sport or go on a long walk or jog without pain …
Imagine the simple joy of once again being able to sleep or sit or stand pain free …
The Sacroiliac (SI) Joint Pain Solution is filled with the expert tips and exercises that will allow you to eliminate your discomfort and pain as fast as possible.
Plus, with the videos, you can see exactly how to do the exercises so you can avoid using bad form which could negatively impact your results.
Save yourself money and frustration – get The Sacroiliac (SI) Joint Pain Solution today and regain pain-free mobility!
Order Now & Get This Entire Package
for Just $37!
Let's see – spend hundreds, possibly even thousands of dollars on drugs and surgery or get similar results in similar time for just $37?
That's the decision you have today.
Remember, use of acetaminophen can eventually cause nausea, vomiting, loss of appetite, or severe stomach pain, trouble passing urine or change in the amount of urine, light-headedness, sweating, fainting, or weakness, unusual bruising or bleeding, and yellowing of the skin or whites of your eyes.
Likewise, using non-steroidal anti-inflammatory drugs (NSAIDS) can cause swelling of the arms and legs, ulcers, bleeding, kidney failure and liver failure.
Our program is a safe, natural solution with no bad side effects.  Heal your back safely and naturally with the very best exercises that have ever been created.
Get The Sacroiliac (SI) Joint Pain Solution today! For just $37 you could save hundreds and possibly thousands in medical costs and you'll avoid the bad effects associated with both over-the-counter and prescription medications.
Let me recap, here's all that you will get when you order now:
SELF-ASSESSMENT PACKAGE

Video, Manual And Fill-In Sheet To Help You Assess Your Current Condition
(1 video, 1 PDF manual, 1 PDF fill-in sheet)

($57 value)

QUICK-START CHEAT SHEET

(1 PDF Condition Summary)

($27 value)

3-STAGE COMPREHENSIVE EXERCISE PROGRAM

Your personal training and coaching sessions with Rick Kaselj, MS
(6 videos, 3 PDF manuals)

($137 value)

EXERCISE QUICK REFERENCE GUIDE

(3 PDF Quick Reference Guides)

($27 value)

PROGRESS TRACKING SHEET

(3 PDF Progress Tracking Sheets)

($27 value)

> > >  TOTAL VALUE OF ALL COMPONENTS (7 videos, 12 PDFs)

$275.00

> > >  REGULAR PRICE

$57.00

> > >  YOUR PRICE (FOR A LIMITED TIME!)

$37.00
Easy-to-perform but highly effective exercises with complete videos and instructions on how to do them
Assessment tools to determine the severity of your sacroiliac joint dysfunction so you know the best way to proceed
A Quick Start guide that tells you exactly where to start and what to do to achieve the fastest results
Complete exercise blueprints to promote healing of your sacroiliac joint
Step-by-step easy-to-understand techniques for eliminating pain resulting from sacroiliac joint dysfunction
And much, much more
Plus, With My Unconditional 100% Money-Back Guarantee,
You've Got Absolutely Nothing to Lose!
I am so sure that you will love The Sacroiliac (SI) Joint Pain Solution that I am offering an unconditional 100% money-back guarantee.
If you are not completely satisfied with your purchase, simply notify me within 60 days and I will refund your money, in full, with absolutely no questions asked!
That's EIGHT FULL WEEKS to put this program to the test! I don't think I can be any fairer than that. Eliminate your back pain or get your purchase price back!
Get the The Sacroiliac (SI) Joint Pain Solution Today &
Get on the Fast Track to Being Pain Free!
To your health and well-being,
Rick Kaselj, MS
Injury Specialist & Kinesiologist
P.S. One of the great things about The Sacroiliac (SI) Joint Pain Solution is its convenience. You don't have to drive to physical therapy or a doctor's office. You can do this video exercise program at home, completely on your own. You get the scientifically-proven exercises shown exactly how they should be performed. The videos show you how to do each and every exercise perfectly, in exactly the right sequence, with exactly the right number of reps and sets all laid out for you. Order now
P.P.S. Remember, there is NO RISK at all for you when you try The Sacroiliac (SI) Joint Pain Solution. If you are not completely thrilled with how this program helps you get rid of your pain, just let me know and I will refund your money. Your satisfaction is 100% guaranteed. Order now